Education: "Where Business Begins"
The Manufacturing Technology Advisory Group is working towards winning the skills war.
We are a partnership comprised of Washington business, education, government, labor and community
to address the emerging technological needs of education and the manufacturing/engineering industry.
MTAG Vision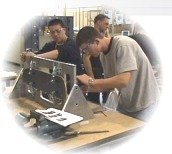 MTAG is the leading forum for manufacturers to:
Partner with Washington education
Create learning opportunities
that result in a skilled manufacturing workforce.
MTAG Mission
Provide visibility for manufacturing as a career of choice in educational institutions and communities.
Identify and communicate worker "core" competencies of the manufacturing sector for use in training the existing and future workforce.
Advocate for the acceptance of these manufacturing core competencies throughout industry, labor, education, and government.
Provide the State Board for Community and Technical Colleges and the Superintendent of Public Instruction with input on competency-based instruction.
Serve as a resource broker for manufacturing skill standards, assessments and related projects.
Provide input to schools / colleges in the development or maintenance of Manufacturing Technology Certificate and Associate Degree programs.
Support legislation which will enhance the climate for businesses and education partnerships and promote economic development within the manufacturing sector.
The History of MTAG
Formed in 1992, the Manufacturing Technology Advisory Group (MTAG) is a Washington state coalition
comprised of representatives from industry, labor, education, state government and community service
organizations. MTAG is chartered to develop and promote a Manufacturing Technology Education Program
that begins in high school and leads to an associate degree at a community or technical college. This
"Tech Prep" program is an operational school-to-work strategy designed by and for the manufacturing
industry and supports all sectors of that industry. High School students who successfully complete this
basic curriculum will be encouraged to continue their education at a community or technical college by
specializing in a specific field of manufacturing. MTAG advocates work-based learning combined with the
students' academic learning.